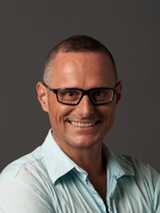 Prof. Dr. Stephan Günzel
Media Theory
Professor Dr. Günzel is Head of the Theory Department at UE Berlin. His expertise lies in Media Theory, Spaces, Photography, and Philosophy, which supports his teaching in the fields of Game Design, History of Art and Design, History of Photography, Media Theory, Film/Motion History and more at UE Berlin. Prof. Günzel is the coordinator of the Institute of Design Research which now focuses on the projects the colleagues are doing outside the university to bring into the university and encourage what they are doing outside of research and turn it into research.
Portfolio

TOPOLOGIE.
Zur Raumbeschreibung in den Kultur- und Medienwissenschaften
Book
Das Thema »Raum« ist äußerst populär, die Vielfalt der Methoden und Gegenstandsbereiche wird jedoch zunehmend unüberschaubar. Hier setzt der Band an: Er versammelt Beiträge verschiedener Disziplinen, die eine ausdrücklich relationale oder ortsspezifische Beschreibung von Räumlichkeit vornehmen.
Hierzu wird die aktuelle Raumdebatte in den Kultur- und Medienwissenschaften rekonstruiert und die Entstehung der Topologie im Kontext der Mathematik nachgezeichnet. Einzelanalysen widmen sich verschiedenen Anwendungsgebieten wie Architektur, Film- und Literaturwissenschaft, Kunst, Psychologie oder Soziologie und gehen auf die Schlüsselfunktion phänomenologischer und strukturalistischer Ansätze ein.
Published by Transcript verlag
2015, German
13.5×22.6 cm, 332 pages
ISBN: 978-3-8394-0710-3
Find publication here: https://www.transcript-verlag.de/978-3-89942-710-3/topologie./