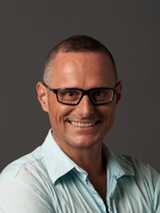 Prof. Dr. Stephan Günzel
Media Theory
Professor Dr. Günzel is Head of the Theory Department at UE Berlin. His expertise lies in Media Theory, Spaces, Photography, and Philosophy, which supports his teaching in the fields of Game Design, History of Art and Design, History of Photography, Media Theory, Film/Motion History and more at UE Berlin. Prof. Günzel is the coordinator of the Institute of Design Research which now focuses on the projects the colleagues are doing outside the university to bring into the university and encourage what they are doing outside of research and turn it into research.
Portfolio

Mediale Räume
Book
Mit Beiträgen von Achim Bahr, Jenny Bauer, Thea Brejzek, Vera Doerk, Holger Dörnemann, M. Hank Häusler, Hans-Christian von Herrmann, Florian Kühnle, Kirsten Johannsen, Angela Lammert, Lauritz L. Lipp, Marie-Louise Nigg, Michael Nitsche, Patrick Rupert-Kruse, Jens Schröter und Heizo Schulze
Medien konstituieren Raum: Dies gilt schon für die perspektivische Tafelbildmalerei und die damit verbundene tiefenräumliche Illusion, vor allem aber für immersive und realitätserweiternde Bilder. Mediale Räume sind heute in ephemerer und dauerhafter Form als kommerzielle oder künstlerische Szenographien anzutreffen, das heißt bei Ausstellungen, Messen, urbanen Interventionen oder selbst als Architektur. Die Beiträge des vorliegenden Bandes behandeln dazu ausgehend von konkreten Konfigurationen die sich ergebenden Fragestellungen zu ästhetischen und epistemischen Aspekten der Herstellung medialer Räumlichkeit. Gezeigt wird, wie durch die daraus resultierenden Fragen zu einer Neueinschätzung der Praxis führen und sich darüber Möglichkeiten eines spatial wirksamen Mediengebrauchs für kommendes Design ergeben.
Published by Kadmos
2018, German
15×23 cm, 320 pages
ISBN: 978-3-86599-378-6
Find publication here: https://www.kulturverlag-kadmos.de/programm/details/mediale_raeume