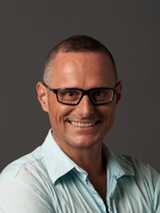 Prof. Dr. Stephan Günzel
Media Theory
Professor Dr. Günzel is Head of the Theory Department at UE Berlin. His expertise lies in Media Theory, Spaces, Photography, and Philosophy, which supports his teaching in the fields of Game Design, History of Art and Design, History of Photography, Media Theory, Film/Motion History and more at UE Berlin. Prof. Günzel is the coordinator of the Institute of Design Research which now focuses on the projects the colleagues are doing outside the university to bring into the university and encourage what they are doing outside of research and turn it into research.
Portfolio

Texte zur Theorie des Raums
Book
Der Raum spielt in den letzten Jahren in den Kulturwissenschaften eine immer bedeutendere Rolle. Stephan Günzel, Professor für Medientheorie an der Berliner Technischen Kunsthochschule, hat in diesem Band die wichtigsten Texte von Herder, Clausewitz und Benjamin über Derrida und Agamben bis zu Said und vielen anderen zusammengestellt und führt in einleitenden Essays zu den jeweiligen Kapiteln »Kultur«, »Medium«, »Politik« und »Wissen« in das Thema ein.
Published by Reclam
2013, German
15 cm, 442 pages
ISBN: 978-3-15-018953-5
Find publication here: https://www.reclam.de/detail/978-3-15-018953-5/Texte_zur_Theorie_des_Raums#top