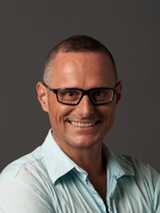 Prof. Dr. Stephan Günzel
Media Theory
Professor Dr. Günzel is Head of the Theory Department at UE Berlin. His expertise lies in Media Theory, Spaces, Photography, and Philosophy, which supports his teaching in the fields of Game Design, History of Art and Design, History of Photography, Media Theory, Film/Motion History and more at UE Berlin. Prof. Günzel is the coordinator of the Institute of Design Research which now focuses on the projects the colleagues are doing outside the university to bring into the university and encourage what they are doing outside of research and turn it into research.
Portfolio

Egoshooter:
Das Raumbild des Computerspiels
Book
Computerspiele haben eine eigene digitale Ästhetik, die eine besondere Raum- und Bilderfahrung ermöglicht. Diese spezifische Erfahrung und damit der mediale Charakter von Computerspielen rücken in diesem Buch erstmals ins Zentrum des Interesses. Egoshooter, aufgrund ihrer Gewaltdarstellung wie kaum ein anderes Populärmedium in der Kritik, erfahren dabei eine Neubewertung: In diesen Spielen fließen nicht nur die beiden mächtigsten Stränge der europäischen Bildtradition von Zentralperspektive und Kartendarstellung zusammen; sondern diese sind auch zu einem einzigartigen Raumbild weiterentwickelt.
Das Buch zeichnet die Geschichte der Computerspiele seit den 1970er Jahren bis heute nach und bietet neben einem Überblick über die aktuellen Positionen in den Game Studies eine Einführung in die Medienanalyse mit Mitteln der Bild- und Raumtheorie.
Published by Campus Verlag
2012, German
24×17 cm, 400 pages
ISBN: 978-3-59339-755-9
Find publication here: https://www.medimops.de/stephan-guenzel-egoshooter-das-raumbild-des-computerspiels-taschenbuch-M03593397552.html?variant=UsedVeryGood&creative=Shopping&sitelink=&gclid=Cj0KCQiAys2MBhDOARIsAFf1D1cahaFBEosOc6wogz5uxPB_yu4D192xPC5eooVYDkrghcImciVmujMaAhssEALw_wcB&gclid=Cj0KCQiAys2MBhDOARIsAFf1D1cahaFBEosOc6wogz5uxPB_yu4D192xPC5eooVYDkrghcImciVmujMaAhssEALw_wcB