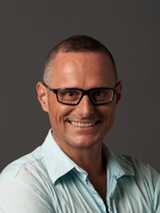 Prof. Dr. Stephan Günzel
Media Theory
Professor Dr. Günzel is Head of the Theory Department at UE Berlin. His expertise lies in Media Theory, Spaces, Photography, and Philosophy, which supports his teaching in the fields of Game Design, History of Art and Design, History of Photography, Media Theory, Film/Motion History and more at UE Berlin. Prof. Günzel is the coordinator of the Institute of Design Research which now focuses on the projects the colleagues are doing outside the university to bring into the university and encourage what they are doing outside of research and turn it into research.
Portfolio

Geophilosophie Nietzsches philosophische Geographie
Book
Wanderschaft und Denken. – Wie kein anderer hat Nietzsche diese Verbindung in seinem Leben und Schreiben hergestellt. Im gleichen Maße, in dem er sich als Philosoph stets an neuen Positionen versucht, experimentiert er mit den Orten seiner Existenz. Dieses Charakteristikum findet seinen Ausdruck zunächst in der räumlichen Form der Texte Nietzsches, den thematisch grenzziehenden und zugleich stilistisch Atmosphären bildenden Aphorismen. Darüber hinaus war Nietzsche aufgrund seines empirischen Interesses ein intensiver Leser erdkundlicher und erdgeschichtlicher Werke. Hierdurch entsteht in seinen Texten eine von der Rezeption bislang nur unzugänglich erschlossene Mischung aus geographischen Metaphern und Referenzen. In der Studie von Stephan Günzel wird erstmals Nietzsches Abwendung vom zeitgenössischen, historischen Denken entlang geologischer und kartographischer Leitmotive nachgewiesen. Diese sind der Schlüssel zum Verständnis der metaphorischen Landschaftsschilderungen und ihrer Erhebung zur philosophischen Konzeption dessen Werk. Wie Vergleiche mit Platon, Kant und Hegel zeigen, stellen besonders die geographischen und kosmologischen Motive des "Zarathustra" – das Meer, die Wüsten, die Berge, der Himmel und die Sonne – eine Kritik am traditionellen Bildgebrauch in der Philosophie vor Nietzsche dar.
Published by Akademie Verlag
2001, German
16.99×24.41 cm, 337 pages
ISBN: 978-3-05-003622-9
Find publication here: https://www.degruyter.com/document/doi/10.1515/9783050079592/html