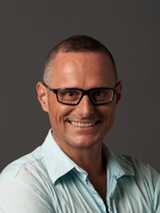 Prof. Dr. Stephan Günzel
Media Theory
Professor Dr. Günzel is Head of the Theory Department at UE Berlin. His expertise lies in Media Theory, Spaces, Photography, and Philosophy, which supports his teaching in the fields of Game Design, History of Art and Design, History of Photography, Media Theory, Film/Motion History and more at UE Berlin. Prof. Günzel is the coordinator of the Institute of Design Research which now focuses on the projects the colleagues are doing outside the university to bring into the university and encourage what they are doing outside of research and turn it into research.
Portfolio

Computerspiele im Kunstunterricht
Article
Der Beitrag befasst sich mit der Möglichkeit, Computerspiele aufgrund der bildlichen Stilmittel parallel zu Entwicklungen der Kunstgeschichte zu untersuchen. Hierzu wird auf die Stilanalyse des Schweizer Kunstwissenschaftlers Heinrich Wölfflin zurückgegriffen, der den Wandel der realistischen Malerei von der Renaissance zum Barock am Übergang von 'flachen' zu 'tiefen' Darstellungen festmacht. In einem zeitlich wesentlich kürzeren Abstand lässt sich die gleiche Veränderung am Übergang früher realistischer Computerspiele vom Anfang der 1990er Jahre bis zu den 2000er Jahren feststellen. Damit zeigt sich sowohl die Relevanz der kunstgeschichtlichen Auseinandersetzung mit Computerspielen, wie sich auch eine neue Perspektive auf die Frage nach digitalen Spielen 'als Kunst' eröffnet.
Published by Universitätsverlag Potsdam
2020, German
15 pages
ISBN: 978-3-86956-467-8
Find publication here: https://publishup.uni-potsdam.de/frontdoor/index/index/docId/43075