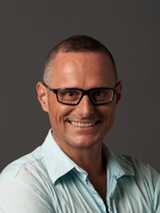 Prof. Dr. Stephan Günzel
Media Theory
Professor Dr. Günzel is Head of the Theory Department at UE Berlin. His expertise lies in Media Theory, Spaces, Photography, and Philosophy, which supports his teaching in the fields of Game Design, History of Art and Design, History of Photography, Media Theory, Film/Motion History and more at UE Berlin. Prof. Günzel is the coordinator of the Institute of Design Research which now focuses on the projects the colleagues are doing outside the university to bring into the university and encourage what they are doing outside of research and turn it into research.
Portfolio
Immanenz zum Philosophiebegriff von Gilles Deleuze
Book
Erstmalig im deutschen Sprachraum untersucht der Autor das Gesamtwerk des französischen Philosophen Gilles Deleuze hinsichtlich seines Begriffs von Philosophie. Ebenso wie Deleuze 'seine' Philosophen (Spinoza, Nietzsche und Bergson) 'immanent', aus ihren jeweiligen Problemstellungen heraus, denken wollte, so werden hier Deleuzes Schriften auf sein philosophisches Anliegen hin untersucht. Es zeigt sich, daß 'Immanenz' für Deleuze nicht nur eine Methode zur Lektüre philosophischer Texte, sondern gleichsam der Inbegriff von Philosophie überhaupt ist. Das Buch bietet über die Einführung in das Denken von Deleuze hinaus eine Situierung Deleuzes in den Kontext der gegenwärtigen Philosophie sowie der philosophischen Tradition überhaupt und zeigt Anschlußstellen für das Weierdenken 'nach Deleuze' auf. Es wird durch umfangreiche Literatur- und Lesehinweise ergänzt.
Published by Die blaue Eule
1998, German
160 pages, Paperback
ISBN: 978-3-7705-7036-2
Find publication here: https://www.fink.de/view/title/58711