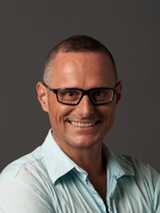 Prof. Dr. Stephan Günzel
Media Theory
Professor Dr. Günzel is Head of the Theory Department at UE Berlin. His expertise lies in Media Theory, Spaces, Photography, and Philosophy, which supports his teaching in the fields of Game Design, History of Art and Design, History of Photography, Media Theory, Film/Motion History and more at UE Berlin. Prof. Günzel is the coordinator of the Institute of Design Research which now focuses on the projects the colleagues are doing outside the university to bring into the university and encourage what they are doing outside of research and turn it into research.
Portfolio

Maurice Merleau-Ponty
Werk und Wirkung. Eine Einführung
Book
Maurice Merleau-Ponty (1908-61) gehört zu den einflussreichsten Denkern der französischen Philosophie. Gleichwohl gilt sein Denken als schwer zugänglich. Erstmals versucht eine deutschsprachige Einführung, Merleau-Pontys Werk systematisch zu erschließen und dabei zugleich vor allem die wirkungsgeschichtlichen Aspekte seines Ansatzes zu berücksichtigen.
Das Zentrum seiner Philosophie wird durch die drei Grundfiguren Leib, Struktur und Chiasmus bestimmt. Sie umkreisen den Begriff des Fleisches, der ausgehend von Merleau-Pontys Natur- und Kunstverständnis als ein Konzept von Räumlichkeit vorgestellt wird. Die Untersuchung gibt einen breitgefächerten Überblick über die Rezeption dieses Raumkonzeptes im Poststrukturalismus, in der Medientheorie, in Philosophie, Soziologie, Psychologie und Geographie oder auch in der Gender-Debatte, Handlungstheorie und KI-Diskussion. Merleau-Pontys exzeptionelle Stellung zwischen Phänomenologie und Strukturalismus macht ihn dabei nicht zuletzt zu einem Zeugen des ideengeschichtlichen Wandels, der die geistes- und kulturwissenschaftliche Theoriebildung im 20. Jahrhundert grundlegend veränderte.
Der Autor Stephan Günzel ist Medienwissenschaftler an der Friedrich-Schiller-Universität Jena, wo er zu Computerspielen in der Perspektive "Erste Person" forscht. Publikationen zur Raumtheorie, Wissens- und Begriffsgeschichte sowie monographische Arbeiten zu Nietzsche und Deleuze.
Published by Turia + Kant Verlag
2015, German
12×17 cm, 190 pages, Softback
ISBN: 385-1-3246-41

Find publication here: https://www.bookdepository.com/Maurice-Merleau-Ponty-Werk-und-Wirkung-Stephan-G%C3%BCnzel/9783851324648?ref=grid-view&qid=1637754440386&sr=1-28