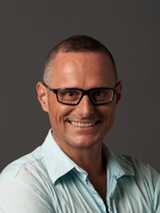 Prof. Dr. Stephan Günzel
Media Theory
Professor Dr. Günzel is Head of the Theory Department at UE Berlin. His expertise lies in Media Theory, Spaces, Photography, and Philosophy, which supports his teaching in the fields of Game Design, History of Art and Design, History of Photography, Media Theory, Film/Motion History and more at UE Berlin. Prof. Günzel is the coordinator of the Institute of Design Research which now focuses on the projects the colleagues are doing outside the university to bring into the university and encourage what they are doing outside of research and turn it into research.
Portfolio
Grenzen der einen sind (nicht) die der Anderen
Book

Grenzen, auf die es in sozialer Hinsicht ankommt, sind nicht einfach vorhanden wie natürliche Barrieren. Sie werden vielmehr gezogen, beachtet oder verletzt, respektiert oder überschritten. Dabei steht vor allem in Frage, ob die Grenzen der Einen auch die Grenzen der Anderen sind. Das gilt nicht zuletzt für moralische Grenzen des Akzeptablen und Erlaubten und für politisch-rechtliche Grenzen, die Freizügigkeit gestatten, aber auch zu hermetischer Abschottung dienen. Die Beiträge in diesem Buch arbeiten heraus, inwieweit wir im Verhältnis zu Anderen nicht nur ›begrenzte‹ und sich ›abgrenzende‹, sondern auch ›grenzüberschreitende‹ und zugleich ›grenz-verletzende‹ Wesen sind, die sich zu der darin liegenden Gewalt verhalten müssen.
Published by Kadmos
2020, German
15x23cm, 336 pages
ISBN: 978-3-86599-478-3