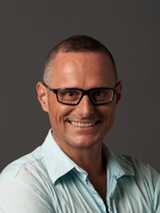 Prof. Dr. Stephan Günzel
Media Theory
Professor Dr. Günzel is Head of the Theory Department at UE Berlin. His expertise lies in Media Theory, Spaces, Photography, and Philosophy, which supports his teaching in the fields of Game Design, History of Art and Design, History of Photography, Media Theory, Film/Motion History and more at UE Berlin. Prof. Günzel is the coordinator of the Institute of Design Research which now focuses on the projects the colleagues are doing outside the university to bring into the university and encourage what they are doing outside of research and turn it into research.
Portfolio

Raumtheorie. Grundlagentexte aus Philosophie und Kulturwissenschaften
Book
Mit dem spatial turn seit den 1980er Jahren ist die Räumlichkeit zu einem Schlüsselthema der Geistes- und Kulturwissenschaften avanciert. Insbesondere die Geographie, die Soziologie und die Ästhetik haben die Wende im Raumdenken eingeläutet und den Weg für die Wiederentdeckung klassischer europäischer Texte aus den Geistes- und Naturwissenschaften bereitet. Der vorliegende Band versammelt erstmals einen repräsentativen Querschnitt raumtheoretischer Grundlagentexte von der Neuzeit bis zur Gegenwart, die sich nicht nur mit der Phänomenologie des Raumes auseinandersetzen, sondern auch über mediale, soziale, politische und ästhetische Räume reflektieren. Kurze Einführungen stellen die jeweiligen Texte und ihre Autoren in ihrem historischen wie theoretischen Zusammenhang vor.
Published by Insel Verlag
2006, German
10,9×17,7 cm, 554 pages
ISBN: 978-3-518-29400-0
Find publication here: https://www.suhrkamp.de/buch/raumtheorie-t-9783518294000