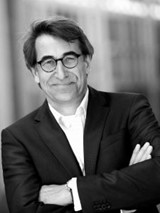 Prof. Dr. Wolfgang Merkle
Marketing Management
Professor Dr. Wolfgang Merkle is the Professor of Marketing & Management and at the same time the head of the two Master's programs Corporate Management (M.Sc.) and Marketing Management (M.A.) at the Hamburg Campus. With a background of high academic expertise and many years of professional experience, he brings a high level of strategic competence coupled with holistic implementation experience to the research and teaching of his to the business degree programs of the UE – University of Europe for Applied Sciences. Prior to his time with UE, Professor Merkle accomplished 25 years of experience within many recognizable companies in leadership positions. Managing Director for Zara and Massimo Dutti, CMO for Galeria Kaufhof, Chief of Marketing for Tchibo, just to name a few. Currently, Professor Merkle is also the President of the Marketing Club Hamburg, a member of CMO Network, and is a marketing and management consultant for his very own consulting firm Merkle. Speaking. Sparring. Consulting.
Portfolio
Review eigener Geschäftsmodelle und prozesse: Vom Benchmarking zum 'Out-of-the-box'-Denken…
Blog contribution
Bei der regelmäßigen Überprüfung des eigenen Geschäftsmodells und der begleitenden Prozesse kommt in vielen Unternehmen das 'Benchmarking' zum Einsatz. Ein gern genutztes Instrument, um im direkten Vergleich mit anderen Unternehmen 'Best Practices' für die Kernprozesse der Leistungserstellung zu identifizieren. Ohne Zweifel – solche Analysen sind hilfreich, um die eigene Leistungsfähigkeit kritisch zu hinterfragen und in der Konsequenz die eigenen Arbeitsweisen zu optimieren. Allerdings: In der Weiterentwicklung des Unternehmens, in der notwendigen Differenzierung zum Wettbewerb und insbesondere zur Schaffung konkreter Mehrwerte für Kunden sind solche Analysen nur bedingt hilfreich. Denn ein Benchmarking erfolgt zumeist aus einer internen Perspektive und bewertet eigene Prozesse zudem häufig nur aus einer effizienzgetriebenen, kostenoptimierenden Sichtweise heraus.
Find publication here: https://www.tisson.com/blog/2021/3/8/review-eigener-geschaftsmodelle-und-prozesse-vom-benchmarking-zum-out-of-the-box-denken/