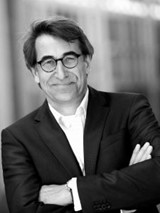 Prof. Dr. Wolfgang Merkle
Corporate Management
Professor Dr. Wolfgang Merkle is the Professor of Marketing & Management and at the same time the head of the two Master's programs Corporate Management (M.Sc.) and Marketing Management (M.A.) at the Hamburg Campus. With a background of high academic expertise and many years of professional experience, he brings a high level of strategic competence coupled with holistic implementation experience to the research and teaching of his to the business degree programs of the UE – University of Europe for Applied Sciences. Prior to his time with UE, Professor Merkle accomplished 25 years of experience within many recognizable companies in leadership positions. Managing Director for Zara and Massimo Dutti, CMO for Galeria Kaufhof, Chief of Marketing for Tchibo, just to name a few. Currently, Professor Merkle is also the President of the Marketing Club Hamburg, a member of CMO Network, and is a marketing and management consultant for his very own consulting firm Merkle. Speaking. Sparring. Consulting.
Portfolio

Responsible Marketing: Marketeers – Stellt Euch Eurer Verantwortung…!
Article
Bisher war Marketing darauf angelegt, das Wachstum von Umsatz, Marktanteil und Kundenbasis zu forcieren. Und das mit immer knapperen Budgets und höchster Effizienz – präzise gemessen und genauestens dokumentiert in den Excel-Sheets der Kennzahlengetriebenen Zentralcontroller. Mit zunehmender Sensibilisierung der Öffentlichkeit und gesetzlichen Vorgaben bzgl. Klimawandel und Begrenztheit natürlicher Ressourcen wird jedoch auch das Handeln von Unternehmen deutlich stärker hinterfragt. Auf dem Weg dorthin kommt dem Marketing eine wichtige Rolle zu und muss damit eine neue Verantwortung übernehmen – hin zu einem 'Responsible Marketing'.
Wie lässt sich eine solche erweiterte Verantwortung in der unternehmerischen Praxis realisieren? Wie sollte man sich dabei im Dialog mit den Kunden aufstellen? Wo liegen Stolpersteine und Herausforderungen? Und: Wie bilden wir die nächste Generation zu responsible Marketeers aus?
Published by Absatzwirtschaft Heft
2021, German