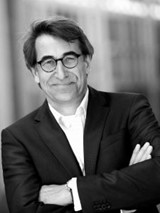 Prof. Dr. Wolfgang Merkle
Corporate Management
Professor Dr. Wolfgang Merkle is the Professor of Marketing & Management and at the same time the head of the two Master's programs Corporate Management (M.Sc.) and Marketing Management (M.A.) at the Hamburg Campus. With a background of high academic expertise and many years of professional experience, he brings a high level of strategic competence coupled with holistic implementation experience to the research and teaching of his to the business degree programs of the UE – University of Europe for Applied Sciences. Prior to his time with UE, Professor Merkle accomplished 25 years of experience within many recognizable companies in leadership positions. Managing Director for Zara and Massimo Dutti, CMO for Galeria Kaufhof, Chief of Marketing for Tchibo, just to name a few. Currently, Professor Merkle is also the President of the Marketing Club Hamburg, a member of CMO Network, and is a marketing and management consultant for his very own consulting firm Merkle. Speaking. Sparring. Consulting.
Portfolio

Händler brauchen für Dynamic Pricing eine Gesamtstrategie
Article
Mit der weiteren Verbreitung elektronischer Regalpreisstreifen verstärkt sich im stationären Einzelhan- del die Diskussion, ob ergänzend dazu nicht auch digitale Pricingmethoden zum Einsatz kommen soll- ten. Denn ein automatisiertes, flexibles 'Dynamic Pricing' – abhängig von Zeitpunkt oder Verfügbarkeit – gehört in vielen Geschäftsmodellen wie Tankstellen oder digitalen Reisebuchungen schon lange zur selbstverständlichen Praxis. Und aus der Beobachtung paralleler Handlungsweisen im Online-Handel, in dem Preise teilweise stündlich geändert werden, versprechen Experten auch für den stationären Einzelhandel ganz wesentliche Ergebniseffekte und proklamieren "Mit Dynamic Pricing werden Händ- lerwünsche wahr".
Published by LebensmittelZeitung
2021, German
1 page