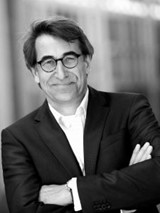 Prof. Dr. Wolfgang Merkle
Corporate Management
Professor Dr. Wolfgang Merkle is the Professor of Marketing & Management and at the same time the head of the two Master's programs Corporate Management (M.Sc.) and Marketing Management (M.A.) at the Hamburg Campus. With a background of high academic expertise and many years of professional experience, he brings a high level of strategic competence coupled with holistic implementation experience to the research and teaching of his to the business degree programs of the UE – University of Europe for Applied Sciences. Prior to his time with UE, Professor Merkle accomplished 25 years of experience within many recognizable companies in leadership positions. Managing Director for Zara and Massimo Dutti, CMO for Galeria Kaufhof, Chief of Marketing for Tchibo, just to name a few. Currently, Professor Merkle is also the President of the Marketing Club Hamburg, a member of CMO Network, and is a marketing and management consultant for his very own consulting firm Merkle. Speaking. Sparring. Consulting.
Portfolio

Purpose: Die Suche nach dem Sinn – vom Schlagwort zum Wirtschaftsfaktor
Blog contribution
›Purpose‹ – das ist ein Begriff, der in der aktuellen Marketing- und Management-Welt immer häufiger diskutiert wird. Denn wir leben in einer Zeit einer zunehmend kriti- scheren Gesellschaft, ausgelöst durch ein gestiegenes Umweltbewusstsein und einem wachsenden Anspruchsniveau der Konsumenten. Immer mehr Menschen kaufen und konsumieren Produkte, die einen expliziten, positiven Beitrag zu Umwelt und ge- sellschaftlichem Gemeinwohl leisten. Sie suchen in einem Überangebot von Marken nach jenen, die über ihre Einstellung und ihr Handeln dazu beitragen, genau in diesen Feldern einen konkreten Beitrag zu leisten. Und mit denen sie sich im Ergebnis identifi- zieren können, wie zum Beispiel bei der Sneakermarke Allbirds, die während des ›Black Friday‹-Events im Gegensatz zu allen Wettbewerbern ihre Preise sogar noch erhöhen, um die Zusatzeinnahmen für die ›Fridays-for-Future‹-Bewegung zu spenden. Oder die nachhaltige Marke Followfood, die einen Teil der Verkaufserlöse in einen Fonds inves- tiert, der die regenerative Landwirtschaft fördert.
Published by Sherpa
2021, German
3 pages
Find publication here: https://sherpa-design.de/de/blog/210610_Purpose