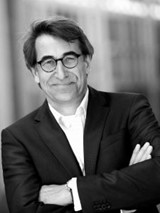 Prof. Dr. Wolfgang Merkle
Corporate Management
Professor Dr. Wolfgang Merkle is the Professor of Marketing & Management and at the same time the head of the two Master's programs Corporate Management (M.Sc.) and Marketing Management (M.A.) at the Hamburg Campus. With a background of high academic expertise and many years of professional experience, he brings a high level of strategic competence coupled with holistic implementation experience to the research and teaching of his to the business degree programs of the UE – University of Europe for Applied Sciences. Prior to his time with UE, Professor Merkle accomplished 25 years of experience within many recognizable companies in leadership positions. Managing Director for Zara and Massimo Dutti, CMO for Galeria Kaufhof, Chief of Marketing for Tchibo, just to name a few. Currently, Professor Merkle is also the President of the Marketing Club Hamburg, a member of CMO Network, and is a marketing and management consultant for his very own consulting firm Merkle. Speaking. Sparring. Consulting.
Portfolio

Die stille Revolution der Verbraucher
Article
Der moderne Kunde ist anspruchsvoll, selbst­bewusst und wenig loyal. Klassische Händler, die auf diesen Wandel nicht angemessen reagieren, werden im Wettbewerb mit dem Onlinehandel nicht bestehen. Gefragt ist eine Neudefinition des Point of Sale.
Published by
In: Handels Journal
2020, German