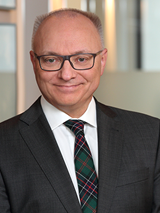 Prof. Christoph Kromer
Business & Management Studies B.Sc
Professor Kromer is the Director of the Business & Taxes Duel/Trio B.Sc Study Program and is a lecturer for Taxes in both B.Sc and M.Sc Study Programs. The expertise of Professor Kromer is in the areas of International Tax and IT, which includes Tax Strategies, Risk Management, Transfer Pricing, Tax Compliance Organization, Tax Accounting, and Tax Reporting Systems. These competencies come from years of leadership positions in Euro Stoxx 50, Big 4 and International Law & Tax Advisory Firms. While the University in Aachen developed expert decision-making software systems to assist charter tax advisors, Professor Kromer took part in the development. It continues to include expert systems that involve AI and has worked for KPMG with an intelligent questionnaire, which is a form of AI expert system.
Portfolio
RPA – Robotic Process
Automation für
Steueranwendungen
Book Contribution


Zunehmend bestimmen Themen der Automatisierung den Reifegrad
komplexer Prozesse. Doch was genau verbirgt sich hinter dem Terminus
,,Robotic Process Automation" (RPA) und worauf ist zu achten, um in der
Praxis tatsächlich Effizienzsteigerungen und Qualitätsvorteile zu erzielen?
Wo liegen die Anwendungsmöglichkeiten im steuerlichen Kontext und wird
der Einsatz von RPA gar unverzichtbar im Bereich von Steuerfunktion und
steuerlichen Anwendungen?
Published by FACHMEDIEN Otto Schmidt
In: Rethinking Tax – Algorithmen in den Risikomanagementsystemen der Finanzverwaltung
2020, German
7 pages