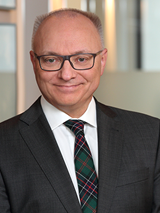 Prof. Christoph Kromer
Business & Management Studies B.Sc
Professor Kromer is the Director of the Business & Taxes Duel/Trio B.Sc Study Program and is a lecturer for Taxes in both B.Sc and M.Sc Study Programs. The expertise of Professor Kromer is in the areas of International Tax and IT, which includes Tax Strategies, Risk Management, Transfer Pricing, Tax Compliance Organization, Tax Accounting, and Tax Reporting Systems. These competencies come from years of leadership positions in Euro Stoxx 50, Big 4 and International Law & Tax Advisory Firms. While the University in Aachen developed expert decision-making software systems to assist charter tax advisors, Professor Kromer took part in the development. It continues to include expert systems that involve AI and has worked for KPMG with an intelligent questionnaire, which is a form of AI expert system.
Portfolio
National Reporter Germany: Tax Compliance in a Globalized World
Book contribution
In the aftermath of a global financial crisis, the past decade has been characterized by increased fiscal pressure. Against this backdrop, it is no surprise that many have called for strengthened efforts in domestic resource mobilization. Domestic resources are the largest untapped source of development financing, but the effective mobilization thereof poses significant challenges in terms of revenue policy and administration strategies. This book provides an overview of various policies that can significantly contribute to increasing domestic revenues by enhancing tax compliance, curbing tax evasion and improving the relationship between taxpayers and tax administrations.
Published by IBFD
In: Improving Tax Compliance in a Globalized World
2018, English