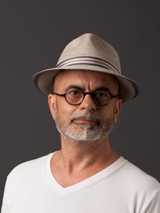 Prof. Volker Pook
Communication Design
After studying design at the Folkwang University of the Arts and graduating in the class of Peter Wippermann, Professor Pook initially went on to work at Büro Hamburg. He was later employed by MetaDesign and Peter Schmidt Studios. During this period he worked with clients such as Bertelsmann, Hugo Boss, Migros and Wella. This was followed by a few years in New York working for agencies such as Enterprise IG (now The Brand Union) and Wolff Olins, where he worked as a senior designer on corporate-identity projects for clients such as Ford Motor Company, General Electric and Staples. In Berlin, he led a design team as creative director for Playframe and was a member of the board of management. Since 2008 he is a professor of communication design at BTK University of Applied Sciences (now: UE University of Applied Sciences Europe) in Berlin. His work has been honored with numerous awards and prizes. Prof. Pook shows expertise in Corporate Identity, Editorial Design, Book Design, and Experience Design.
Portfolio
NR – Die Nummer– Ausgabe 5
Book
Es macht Sinn, sich mit den Sinnen zu beschäftigen, denn sie gehören nach wie vor zu einem Geheimnis der Natur, das nie ganz erforscht werden kann. Sowie die Natur selbst. Bis in die Neuzeit teilte man die Sinne in zwei Kategorien. Die spirituellen Sinne, das Hören und Sehen, welche auch als Fernsinne bezeichnet werden. Die körperlichen Sinne, Tasten, Schmecken und Riechen, bilden für den Menschen den sog. Nahsinn. Dabei stellte sich heraus, dass die Sinne bei Lebewesen sehr unterschiedlich ausgeprägt sind. So besitzt ein Mensch z.B. nur 1% der 200 Mio. Riechzellen eines Hundes. Wir nehmen pro Sekunde 11 Mio. Bits an Informationen auf, können aber tatsachlich nur auf 40 Bits in der Verarbeitung zurückgreifen. Da unsere Wahrnehmung vornehmlich visuell geprägt ist, kommunizieren wir maßgeblich über Sprache und Bilder. Ein Designer muss aber aufgrund dieses Missverhältnisses, aber diese rationale Wahrnehmung hinaus Gefühle nicht nur entwickeln, sondern sie auch transportieren können. Die Geschichten der NR. 5 versuchen dies, indem sie Blickwinkel und Perspektiven verändern und damit erweitertes Wahrnehmen fordern. Das interdisziplinare Studium an der BTK hat diese Ausgabe erst möglich gemacht, weil Kommunikationsdesign, Fotografie und Texten Hand in Hand kooperiert haben.
Published by University of Europe for Applied Sciences
27×21 cm, 136 pages
ISSN:0123456789

Authors: Anna Schlichter, Carla Weindler, Charlotte Pieper, Christoph Rauscher, Dana Kesterke, Johannes Grünberg, Jonas Brinker, Konstantin Damm, Linda Dahlem, Lisa Erkinger, Lukas Oppermann, Lukasz Kus, Milena Sandri, Natalie Hanke, Sarah Kreiseler Skarlett Rohner and Tina Sorgenlos.