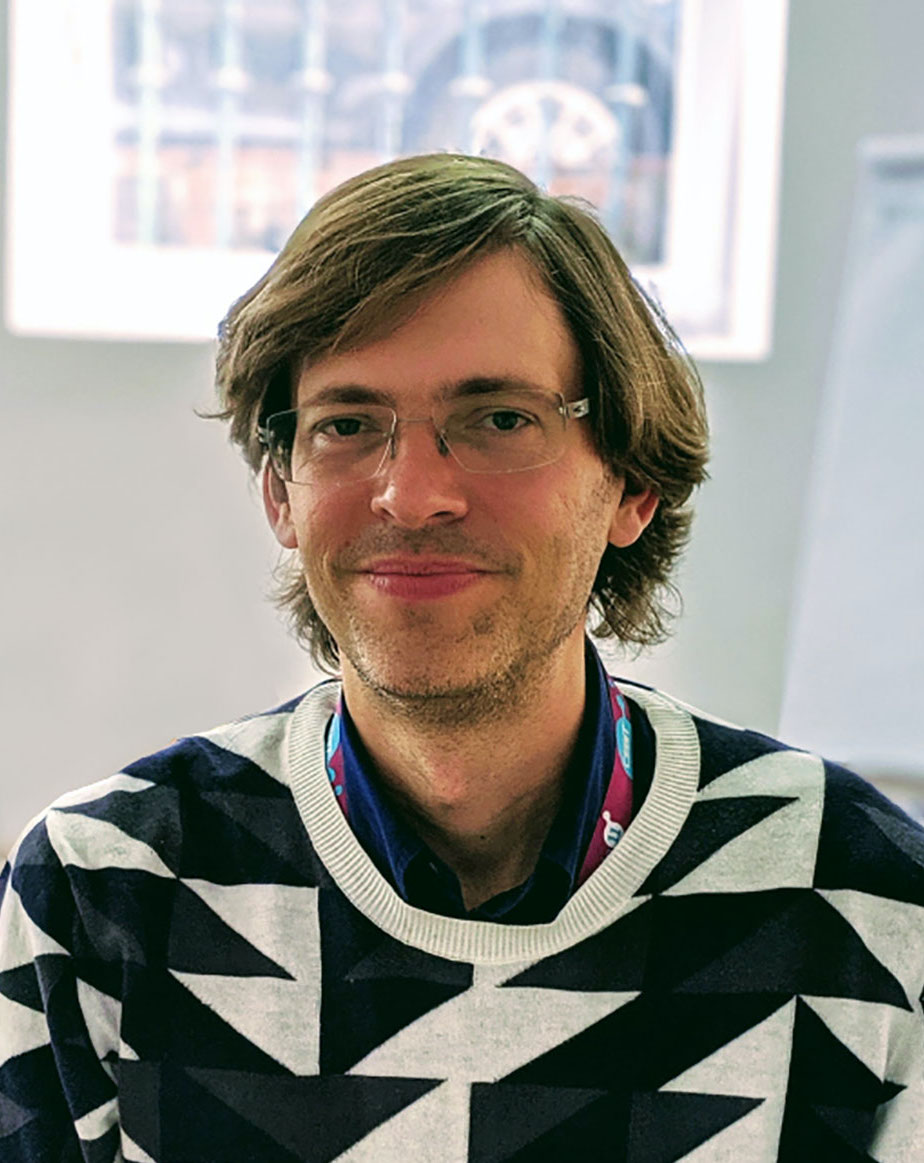 Prof. Dr. Lauritz Lipp
Communication Design
The research interests of Prof. Lipp are topics that involve connecting people with technology, connecting people through technology, and sharing dangers of technology. Currently, Prof. Lipp is a part of a task force team that is focused on bringing digital forms of teaching to the UE. This has brought about different projects that include The motivation for these innovative activities is to elevate the social and learning experiences. Seeing that UE is a multi-campus institute with international students, these tools can assist students, teachers, and even corporate partners with connections in a modern and effective style. These projects are expanding into research through cooperation with companies and universities that are interested in the applications form, as well as the use of technology.
Portfolio

(Inter)active Enviroments 1
Book
Vor drei Jahren – als die Hochschule gegründet wurde – wurde ins Leitbild geschrieben, die Potentiale, die sich mit den neuenTechnologien für das Kommunikationsdesign bieten, kreativ und experimentell aus zuloten: Denn Grafik wird dynamischer werden, Interaktion wird nicht nur auf den Bildschirm beschränkt bleiben. Beide zusammen, Motion-Design und Interaktionsdesign, werden dabei zunehmend in den Raum ausgreifen. In diesem Medium lassen sich neue Formen der Kommunikation erproben. Der Raum als hinzugewonnene Gestaltungsdimension ermöglicht es, atmosphärischer zu arbeiten, emotionaler zu inszenieren und den Betrachter auch in seiner Gestik und körperhaften Präsenz stärker mit einzubeziehen. Man merkt den hier präsentierten Arbeiten an, dass es nicht nur Spaß macht, sondern auch zu ganz neuen Umsetzungsideen führen kann, wenn man Bewegtbild, Interaktion und Raum zusammen denkt.
In der Lehrveranstaltung [inter]aktive environments, in dem die hier präsentierten Arbeiten entstanden sind, ging es vornehmlich darum, sich mit diesen neuen Mitteln gestalterische Freiräume zu erarbeiten. Es ist nur eine Frage der Zeit, bis die hier präsentierten Arbeiten, in denen spielerisch neue Möglichkeiten der Interaktion und Präsentation getestet wurden, in ihrer Weiterentwicklung auch eine breite kommerzielle Nutzung erfahren. Das hier vorliegende Buch, das von Lauritz Lipp und engagierten Studenten als Dokumentation der letzten zwei Semester zusammengestellt wurde, gibt dazu einen ersten Eindruck. Kommunikation wird sich in Zukunft nicht mehr nur auf die Vermittlung zweidimensionaler Botschaften beschränken, sondern darüber hinaus in seiner mehrmedialen und räumlichen Inszenierung Erlebnisse und Erfahrungen möglich machen. Der Raum ist dabei weit mehr als nur ein dreidimensionales Projektionsmedium. Er kann zu einem Bewusstseins- und Lebensraum, Zu einem Raum für Selbsterfahrung und Selbstgewahrsein werden.
Published by University of Europe for Applied Sciences
2008, English
20×20 cm, 94 pages
ISBN: 978-3-00-025615-8